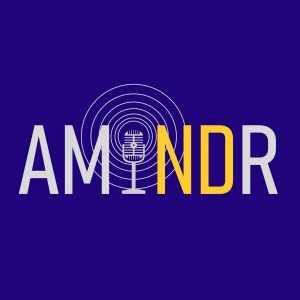 The Brainiac connected with A Month in Neurodegenerative Disease Research (AMiNDR) podcast team. Below is their interview, which has been condensed for clarity and length. 
The AMiNDR podcast launched in June 2020 by a team of current and past UBC and McGill University graduate students. The Brainiac Blog connected with the team to learn more about their podcast and what it brings to the neuroscience community.
What does the AMiNDR podcast offer to its listeners?
The AMiNDR podcast aims to streamline the literature review process for neurodegenerative disease researchers, enabling them to keep up to date on the latest findings without spending hours in front of a screen. Researchers can listen to an episode while they commute, do chores at home, or do routine work in the lab. We started with the field of Alzheimer's disease research, with the intent to branch out into other disease fields as we grow our team.
To provide a literature summary for listeners, we first identify all abstracts of papers published in the field for a given month, sort them based on meaningful themes and subthemes, then summarize them in a series of episodes. Each episode includes the basics—paper titles, authors, journal name—and, uniquely, an abstract summary written by our team as well as a time-stamped bibliography so listeners can easily find the full papers. We sort by themes and subthemes to make sure researchers can listen to the findings that are most relevant to their line of research, with the option of exploring other themes or subthemes.
What makes AMiNDR unique as a SciComm initiative? Why use a podcast platform as opposed to other forms of SciComm?
To our knowledge, AMiNDR is the first podcast for scientists, by scientists, that aims to provide an overview of all new literature in a field of research. While most SciComm initiatives aim to engage the general public, our initiative is catered to neurodegenerative disease researchers.
We aim to make it easy to access newly published research and increase productivity of researchers—this is why it's in a podcast format, rather than video or written. Many researchers already listen to podcasts when they're in the lab or commuting. These podcasts often give clinical or social overviews or updates, providing a general understanding of the field, but are not directly relevant to one's work as a researcher. This means researchers still have to go home and check PubMed for the latest publications.
Researchers are already busy enough with their many responsibilities which makes it hard to also keep up on the ever-changing literature. But reading new research articles can help inspire further experiments and prevent researchers from wasting time doing experiments that have already been performed.
What was the motivation for you and your team to start AMiNDR?
AMiNDR is something many of our team members wish had existed when they were a grad student. With 1000-1500 papers published every month on Alzheimer's disease, how can you keep up? Trainees struggle with busy schedules and juggling many tasks which makes it difficult to keep up with the literature. This might mean a lot of us are missing out on important research.This project makes the ever-growing mound of new information a lot easier to digest, and our hope is that it will connect scientists to the latest findings that they may not have seen otherwise.
Inspired by "The MCAT Basics Podcast", which Sarah Louadi in particular found invaluable when studying for the MCAT, she thought, why not use a similar platform for scientific research? When she spoke with other students, they seemed excited about the idea, and it was this enthusiasm that fueled AMiNDR.
Some people on the team find AMiNDR gives them incentive to keep up with the literature. Others are passionate about science communication and want to hone their skills using a new platform.
Who is AMiNDR's target audience?
Researchers looking to stay up to date on the latest findings in neurodegenerative disease research. Primarily graduate students, but really anyone working in a lab: postdocs, technicians, PIs, Research Associates, undergraduate students. Even some people in industry may find this helpful.
What do you hope the takeaway message is for people listening to AMiNDR?
This project is not meant to replace reading full papers, but rather to give an overview of where the field is at and to help researchers identify papers relevant to their line of work. Ultimately, we hope to transform the daunting literature review task into something easy and enjoyable for scientists.
Also, since we sort the abstracts into themes, perhaps some scientists will find it easier to learn about what is going on in other fields. For example, if your work is on amyloid beta aggregation or on cognitive changes and you don't usually read up on microglia or metabolism, perhaps a short digestible podcast episode will make unfamiliar information more accessible, and help you stay informed outside your area of expertise.
We also hope this will help scientists recognize just how important science communication is and will encourage some people to explore this as a career option.
Who is on the AMiNDR team?
Sarah Louadi, currently a Lab Technician in the Faculty of Medicine, transitioning to Medical Student, UBC
Ellen Koch, PhD Candidate in the Neuroscience program, UBC
Elyn Rowe, PhD student in the Pathology and Laboratory Medicine program, UBC.
Naila Kuhlmann, Postdoctoral Fellow, School of Physical and Occupational Therapy, McGill
Sonja Soo, PhD Student in the Integrated Program in Neuroscience, McGill
Marcia Jude, MSc Candidate in Experimental Medicine, UBC
Anusha Kamesh, PhD Candidate in the Integrated Program in Neuroscience, McGill