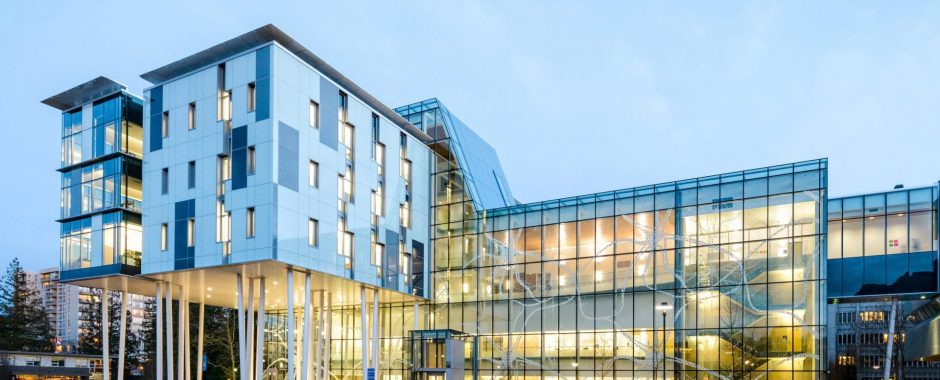 The Graduate Program in Neuroscience is a multidisciplinary program administered under the Faculty of Medicine and the Djavad Mowafaghian Centre for Brain Health at the University of British Columbia. It offers a coordinated program of graduate studies leading to MSc and PhD degrees in Neuroscience. The objective of the program is to educate graduate students as neuroscientists with intensive experience in at least one area of research, and to ensure that students in the program develop a broadly based knowledge of the neurosciences.
The program is comprised of more than 120 faculty members representing 20+ departments from the Faculties of Medicine, Science and Arts at the University of British Columbia. Laboratory and teaching areas are located across the UBC campus, at UBC Hospital and Vancouver General Hospital.
Our faculty have research collaborations that span across departments, industries, and international borders. Although the program is inter-departmental, various regular seminars, journal clubs, and invited lectures provide ample opportunity to meet and discuss current topics in neuroscience. The program encourages its graduate students to participate in the many academic and social events organized by the Djavad Mowafaghian Centre for Brain Health and by the program's student association.
Leadership and Administration
Dr. Winstanley is a Professor in the Department of Psychology. Research in the Laboratory of Molecular and Behavioural Neuroscience focuses on exploring the neural, neurochemical and molecular basis of higher-order cognitive processes such as impulse control and gambling.
Dr. Cembrowski is Assistant Professor in the Department of Cellular and Physiological Sciences. Research conducted in the Cembrowski Laboratory combines multiscale experiments with Big Data computation to understand the mechanisms of memory in the mammalian brain.
Director's Message
Welcome to the webpage of the University of British Columbia Graduate Program in Neuroscience (GPN). The GPN is a cross-departmental program with approx. 130 graduate students, 40 postdoctoral fellows, and more than 90 faculty members nested within 20 departments and representing the full range of neuroscience disciplines. Laboratory and teaching areas are located across the UBC campus, at UBC Hospital and Vancouver General Hospital.
The GPN offers training opportunities in neuroscience with many methodological approaches and levels of analyses, spanning from molecules to systems and behavior in our pursuit to understand the brain and decipher the underpinnings of nervous system disorders. Through core courses and electives, students develop a broadly based and applicable neuroscientific knowledge base. The program is research-oriented and students engage in research from the start of their studies. With its inter-departmental structure, the program offers collaborative opportunities that extend beyond the usual boundaries of neuroscience.
We aim to foster a diverse, equitable, inclusive and collaborative training environment that nurtures academic excellence as well as skills that translate to careers outside of academia. Our program is committed to collaborative decision-making processes through a governance structure which promotes clarity, active engagement and inclusion.
We look forward to serving and working with you, the GPN faculty members, current and future graduate students and postdoctoral fellows. Together we can ensure that the GPN continues to be recognized nationally and internationally and produces outstanding graduates who enter both academic and non-academic fields, taking their scientific training into many areas of society.
Students considering graduate training in the neurosciences are invited to contact us about the outstanding opportunities available at UBC. I hope that you will enjoy exploring our webpage and discover the breadth of the cutting-edge research and training offered by the GPN.
Dr. Catharine Winstanley
Director, Graduate Program in Neuroscience
Professor, Psychology
Faculty of Medicine
University of British Columbia
Research Sites and Partner Institutions
Our faculty conduct research at sites across the UBC Point Grey Campus and the City of Vancouver.