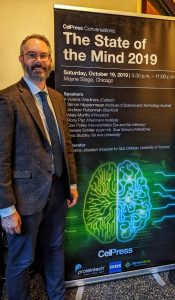 In this mini-series, we will be checking in with GPN Alumni who have gone on to have successful careers outside of academia. 
Our second profile is Dr. Ted Dobie
Job Title: Scientific Editor, Neuron
Graduating Year: 2012
Lab: Craig Lab, PhD
Where do you currently work?
I'm a Scientific Editor at the scholarly journal Neuron. Neuron is published by Cell Press, which is a brand within the company Elsevier, which is a business unit within a larger corporation called RELX.
A major part of my role, let's say 60%, is handling submitted manuscripts—that is, reading the manuscripts and discussing with my colleagues which of them might be a good fit for the journal, coordinating timely and constructive peer review, and working with authors on a plan for revisions.
The other 40% of my role involves thinking creatively, for instance in organizing conferences and commissioning "front matter" (non-research articles, like Reviews and Perspectives). I attend conferences (or hop on Zoom calls) to discuss with our authors, reviewers, and readers what excites them most, and then recruit the most exciting studies to the journal. I also experiment with how we at Neuron can best serve the neuroscience community, which ranges from innovations in peer review and publishing to the promotion of inclusion and diversity.
What do you love about your job?
So many things. For one, being deeply connected to the neuroscience community, a community I love and that has shaped me as a scientist. I learn something new every day and I feel that I am contributing, even in some small way, to scientific progress. I feel a sense of daily accomplishment at Neuron, a sentiment I felt much less frequently at the bench. I also have flexibility in where and how I work.
In my job I collaborate with thoughtful, caring, and committed colleagues, not just at Neuron but also at Cell Press and Elsevier more broadly. At the heart of our shared commitment to doing better for those we serve is a focus on putting ourselves in others' shoes—everyone at Cell Press has been a bench scientist and we all know what's at stake for people's careers in publishing their work.
What I love about my job really boils down to two things, which fulfill my mind and soul, respectively: 1) nurturing a curiosity about the world and advancing the understanding of it through the science we publish; and 2) developing and maintaining interpersonal connections, through the scientists we work with.
Are there major differences between your current role and academia?
Apart from not doing bench work anymore and now being part of a well-organized corporate structure, there are two prominent differences.
The first is pace. Neuron, as you might imagine, receives many manuscript submissions, on top of which we have non-manuscript projects, like Reviews and Perspectives, which we also work on every day. We publish issues twice a month, which means that hard (and sometimes tight) deadlines are the norm. One may have several projects on the go in academia, but I've certainly had to hone my multitasking and "spinning plates" skills as an editor.
The second is the interpersonal aspect, both within Neuron and with the scientific community. In academia, there may be collaboration and collegiality within and beyond one's lab, but Neuron is a team effort, where all of us work toward the common goal of putting out an issue and making sure our next one is even better. I have found it more rewarding to be a member of a dedicated team that works with single-minded purpose. Alongside this, being an editor requires the navigation of complex, sometimes difficult conversations with authors, reviewers, and readers. Unfortunately, editors are unable to always deliver good news to folks. There's an aspect of conflict resolution as an editor that one encounters which we aren't really prepared for when leaving academia. On the flip side, editors do get to send a lot of awesome news. It's always satisfying to hear you've made someone's day in accepting their paper, to see a story you handled covered by The New York Times, or to learn from a first author that they landed a faculty position in part because of the paper you helped shepherd.
What advice do you have for graduates?
Be kind to yourself and others. No one's path as a scientist is "typical," so try your best not to judge yourself by others' accomplishments or your perceived "failures." Those failures are learning experiences.
When I started my post doc after graduating, my intent was to stay in academia. Among the most valuable things I learned during that time was to act nimbly and to not be afraid to try something new. The kindness I received from my mentors and colleagues, and from myself, enabled me to extend this acting nimbly creed beyond the day-to-day in the lab to my overall career trajectory.
Too often among graduates there's this sense that because we've spent so much time in higher education, we're obligated to push the academic path as far as it will go. But when you are kind to yourself, when you give and receive kindness, you can honestly and without judgement afford yourself the freedom to do what makes you happiest—even if what makes you happiest is working to live rather than living to work, and even if it's not as a scientist per se at all.
If you're considering becoming an editor, my advice is to demonstrate that you can think broadly, beyond the borders of your own expertise, and that you are open to finding cool nuggets of insight in unexpected places. You can also reach out to me directly (tdobie[at]cell.com).